A good book, a hot cup of coffee and some rain showers can definitely brighten a dull and dreary day.
Considering it was just the first day of the summer break, my spirits should have been more elevated but the quietness and tranquility in the classroom didn't give me any pleasure,much to my dismay. And if i ramble about how i was on the verge of a dramatic outburst last week for all the noise that the kids were making in the class, people will think i need to be in an asylum. I so wanted to stand on top of the table and scream my lungs out to quieten the noise , but my sanity caught the better of me and i decided to calm myself by taking the 3 magical deep breaths. The kids are trying really hard to get a hang of the things in class and some days are fantastic but some are plain annoying.
So i decided to gather my act together and came up with the quiet spray! My kiddos sure loved getting sprayed with the magical air which reminds them to remain quiet.
I also introduced them to the noise level chart, though it was referred to almost after every 15 minutes in a day. I downloaded the chart from Kinder Kid.
I do a lot of songs during transition time to catch their attention. But i was forgetting most of the ones i use. So i decided to write them all up and made a copy for my class. The kids like to sing different ones so it can be difficult to remember all. Most of the chants are from Dr Jean. I also found some good ones by Nicole Bunt from 1st grade Owls. I picked the ones i liked and put them all together. I want to give a shout out to my self for doing this ! HOORAY !
If you would like to get a copy for yourself, just click on the link below to go to my TPT and download for free.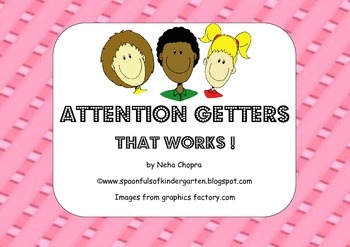 Happy attention grabbing !