Alright ! The procrastinating phase to get myself to write a post has come to an end and i am back with a bang. It wasn't too cool on my part to ignore my little blog but it was also becoming increasingly urgent to overcome my languid demeanor for exercise and adopting a healthy life style. Hence the disappearing act ! Ya , I know.....work on my new year resolution has started just now. But i am being really true to myself and have been making a sincere effort to exercise though portions of sweets and breads are still not under control. But i am in no hurry and will take baby steps in making this change permanent.
Moving on, i am happy that i finally completed my 'Back To School Books' pack. Kids came in two weeks ago after a two month long vacation and even though it wasn't really a start of a new school year, technically speaking it had all the crazy elements of one. I can see fellow educators who are gearing up for this time nodding their heads in agreement for the crazy times ahead. Really, i don't understand the logic of starting a new year for one month and then closing off for two months. Obviously the kids come back with amnesia and forget all the important things/routines they had learnt before the break. But anyways, when has whining helped anyone ?
I was happy to have the kids back and i made a little 'Back To School' take away for them.
It is a paper pouch in the shape of a pencil. I added two pencils and a lollipop for each child and wrote them a little note.
It also has an activity sheet asking them to describe how they spent their summer.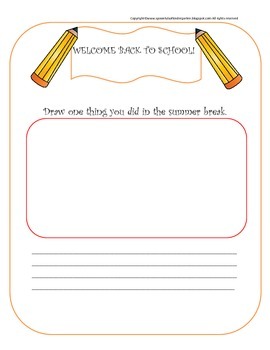 I also made activities for the popular back to school books like The Kissing Hand, David Goes To School, Chicka Chicka Boom Boom, Chrysanthemum and Pete The Cat.
The pack has craft templates, retelling cards and name recognition activities.
Enjoy and see you soon !