I am linking up with Deanna Jump to share one of my favorite books.
It is a book i fell instantly in love with and so did my kids. It had me in fits of laughter and my kids were completely enraptured by the book. It is a fun book with really no message in it. But the kids wanted to hear it over and over so i am assuming it was a hit with the little ones.
The book tells the story of a slug who is shunned by all the snails because he doesn't have a shell. He really wants to fit in, so he starts his search for a shell. And when he finds his perfect shell, his story takes a twist.
My kiddos were rolling on the floor laughing hysterically by the time we got to the end of the book.
If you want to brighten up your day or catch children's attention this is a perfect book to read. Of course you could use this book to talk about the difference between a snail and a slug.
I created this freebie to go with the book. You will witness some interesting sparks of creativity with this activity. :)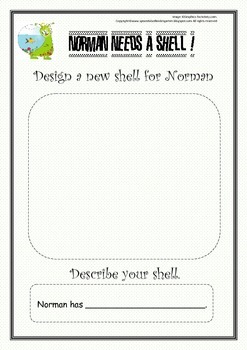 Please click on the link
Norman-the-slug-with-the-silly-shell
to go to my TPT store and download this document for free.
The book is available on amazon
Norman the slug with the silly shell
A big Shout out for Deanna Jump to organize this linky. If you are interested to share your favorite book, hop on to her blog.