OK , so its weekly book sharing time and i am linking up with Deanna Jump.
This week i am sharing a really wonderful book for children by Amy Krouse Rosenthal.
Its called Yes Day !
This book will bring out sparks of imagination in children and will lead them into a journey of fantasies and dreams.
I can assure you that if you read this book to the kids they would jump up and down for the idea of being said yes for everything and would beg you to read the book again and again.
I picked up this book when i was introducing letter y to the kids and wanted to do something different from the usual letter craft .So i read the book and asked them to imagine what would they ask for if they ever had a yes day. I was completely fascinated by the cute and varied answers. One cutie pie said she would love to stay with me for the whole day and do fun stuff. Though i didn't really agree with her entire list of fun things ! :)
I gave them a sheet to draw and express themselves.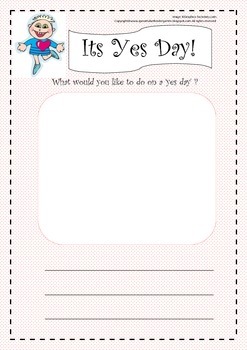 It would be more fun if one could actually plan a 'Yes Day' for the kids. You could draw up a list with them and see what all could be done. Kids will sure have a blast !
ENJOY !
The book is available at
Amazon